Wednesday 11th May 2011 saw the Chaser venturing into the centre of Ireland to visit the Kilbeggan Distillery also known as Locke's Distillery. This distillery is a wonder to behold and a step back in time complete with the workings of 19th century distillery on display. The
Kilbeggan Distillery Museum
is definitely well worth a visit but that is not only reason to visit.
The Distillery like many before it closed in 1957 but had ceased production since 1953 and went through various indignation's from a multitude of owners that breezed through it over the next 30-40 years. Redemption was found though when Cooley Distillery Limited acquired the site and used it as their main maturation site for the whiskey they were producing in their more modern Riverstown operation in Co Louth. All output from there is either Single Malt or Grain whiskey and not Irish Pot Still for which the Locke's Distillery had become famous. Cooley unfortunately, who only establish in 1987, were the new kids on the block and did not have the resources to refurbish the Kilbeggan Distillery in the early years and it remained a warehousing site. However Cooley have gone from strength to strength and in 2007 Cooley started distilling in Kilbeggan once again to the acclaim to Irish Whiskey enthusiasts every where. It did not matter that it was Malt whiskey, what was important was the emergence of a fourth distillery on the Island of Ireland.This resulted last year in the release of the Kilbeggan Distillery malt. A 3 year old whiskey that was part distilled in Cooley HQ there fore cannot be called a Single Malt and eventhough possibly slightly young, this is a historic release and a definite collectors item for the future. However it also As the years go by we will be able to see the progression
The aroma of distillation once again hung over the Locke's distillery but something even more special has been rekindled this month. For the first time in over a half century the distillery is producing Pot Still spirit which will become Single Post Still whiskey in 3 years time. Alex Chasko, the affable American and inovation manager in Kilbeggan, has resurrect an old Locke's mash bill of 60% malt 35% spring barley (which is stone ground by the way) and 5% oats. Oats has long since been dropped by IDL as part of their distilling method so Kilbeggan are in a way making a truly unique pot still whiskey and the true spirit of Kilbeggan is alive once again.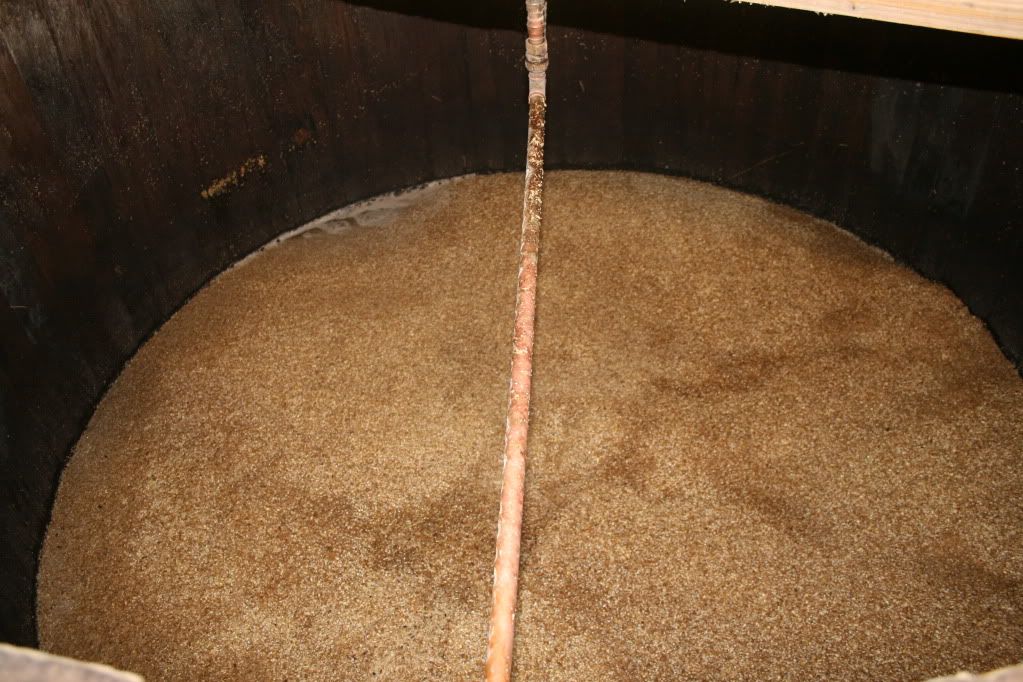 A Pot Still Mash Containing Oats.
While there I got to taste the new make which was quite flavoursome, lovely light fruity and a sweet spirit which is surprisingly very drinkable straight from the still. This bodes well for a matured product in the long run. In tandem they are going to do some pot still in the Riverstown plant also so it will be interesting to see what differences there will be between the 2 new spirits. So now all there is to do is wait ...
I was also lucky enough to sample the new Kilbeggan 18yo, this for me is much better than the award winning 15yo Limited version that was released for Kilbeggan's 250th anniversary. Comes in a very similar bottle which I am told is actually lighter and more slimline but still very striking.If you liked the 15yo you will love this.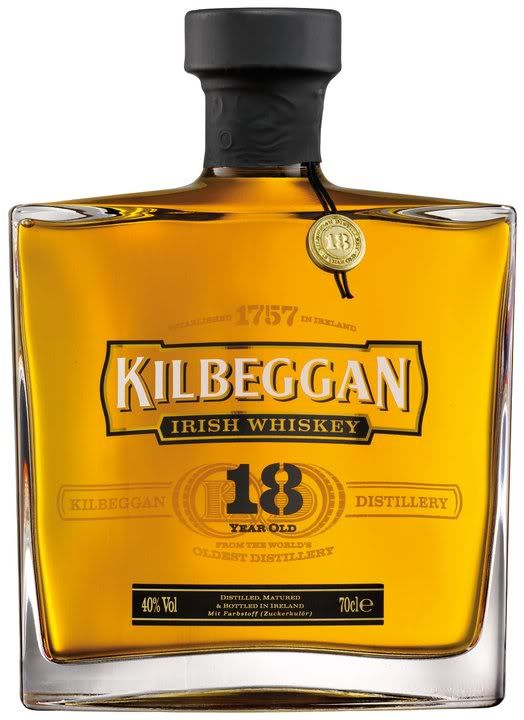 Kilbeggan 18yo